OGLIASTRA WEATHER
Weather detail
SPECIAL OFFERTS
| | |
| --- | --- |
| | Offers for divers >> |
| | |
| --- | --- |
| | BB weekend and nature >> |
| | |
| --- | --- |
| | Nature Weeks Ogliastra Diving and Camping Camping La Pineta >> |
OUR PARTENERSHIPS
Hotel Bajazzurra
Hotel La Torre
Albergo Residenz. Stella dell'Est
Borgo sa Marina
La Casa di Nonno Eligio
Agriturismo Su Solianu
Hotel Su Marmuri
Appartamenti Ogliastra
You in Sardinia
Centro Servizi Ogliastra


WELCOME
Welcome to our Blu!
We are in Baŕ Sardo, Ogliastra, the most wild and natural part of the central east cost of Sardinia, where the blue and the green dominate. We work here all year long in a crystal sea full of wonders: during the summer we work at the main accommodation facilities by the beach and during the winter we leave from the harbor out on the sea, to a multimedia room where we do our didactic activities and to the swimming pool.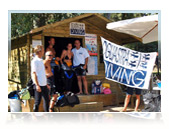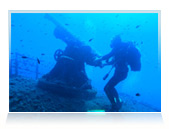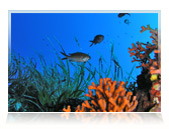 All Diving activities, from free easy trials to instructor courses, from snorkeling to diving, are run by a qualified staff. Our job was born from the deep love of nature especially for the sea, so we try to pass it with enthusiasm to all the people that come to see us, while paying attention to the needs of children and adults, and beginner or expert divers.
Come to dive to Blu Ogliastra!
LATEST NEWS